If you or a family member find yourself in need of a criminal law solicitor in Dublin, you will need a professional firm with extensive experience defending criminal cases through the courts.
Phillip Hannon Solicitors are one of the premier and most respected criminal law firms not just in Dublin but throughout Ireland. Providing legal advice and defence for over 25 years, Phillip Hannon Solicitors might just be the firm you need.
Some of our many client testimonials…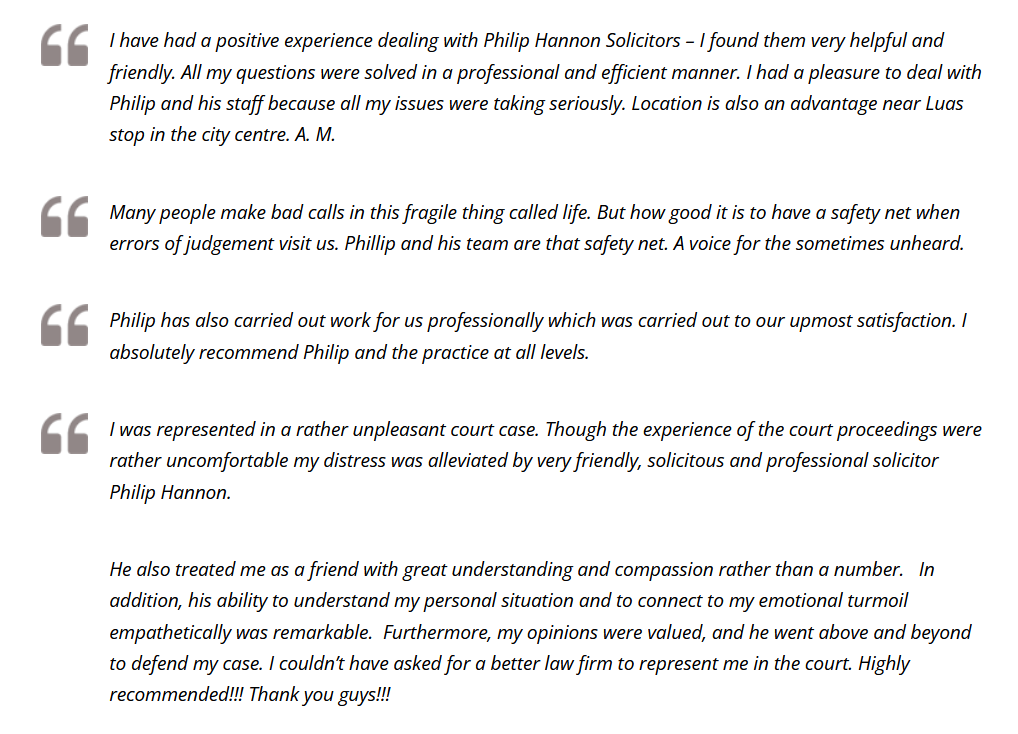 Arrest, advice and questioning:
Phillip Hannon Solicitors criminal law services do not begin in the courts, but when you need us.
We operate a 24/7 service ensuring we can provide you legal counsel upon the time of arrest or questioning within the Irish legal system.
With extensive experience dealing with all manner of crimes, incidents and questioning styles, we will provide you with sound professional legal advice.
The criminal legal process can be intimidating and stressful. Phillip Hannon Solicitors are here to ensure you get the best possible legal representation before, during and after questioning along with further proceedings should they occur.
Beyond the interview room:
Should criminal proceedings go ahead, Phillip Hannon Solicitors are here to advise and guide you through each step of the process and to defend you if and or when necessary.
Our areas of expertise and experience lie within the realms of:
Murder, manslaughter, attempted murder
Sexual assault
Sexual offences including child sexual abuse, pornography, historical abuse
Road traffic law includes drink/drug driving, careless or dangerous driving, all traffic offences
Drugs offences
Breach of Domestic Violence Orders, protection, safety or barring orders
Public Order offences
Assault
Harassment, threats and intimidation
Robbery including aggravated burglary
Theft and Fraud offences
Money laundering
Financial crime, white-collar crime
European Arrest Warrant, Extradition
Juvenile crime.
Should a case involving the above or other legal matters come before you or a family member, you can confidentially contact Phillip Hannon's criminal solicitors in Dublin.  Not only do we provide services in Dublin but throughout the country with the aid of modern communications methods, email, zoom calls and such.
Juvenile Cases:
Although all criminal cases are difficult, those concerning juveniles must be handled with added care and professionalism.
We will advise parents and juveniles on their rights, requirements and the defence that will be presented.
Phillip Hannon Solicitors aim to reduce undue stress while also providing the best possible representation.
European Arrest Warrant and Extraction Law:
Another aspect of criminal law that Phillip Hannon Solicitors specialise in is European arrest warrants and extraction law.
A complex and often long process, you want professionals with experience in this area to successfully defend against extraction and to advise on European arrest warrants and their ramifications.
Whether inside or outside the state, defence and advice on extradition and European arrest warrants are incredibly important.
If someone is removed from the Irish state, they are then liable for the laws within the prosecuting state which may be far more severe and difficult to defend.
Contact Philip Hannon Solicitors for any Criminal Law Matter today…
Should you require confidential, professional and direct legal defence and advice it's important to get in touch with us at the earliest possible convenience.
Contact Philip Hannon Solicitors your Criminal Law Solicitors based in the heart of Dublin, serving clients throughout Ireland.  We have a 24 Hour Emergency Number for any urgent matters, call 0858851399 or Schedule a Call on our contact us page or call the office on 018733980.
Some of our Law and Practice Accreditations, Awards and Membership…